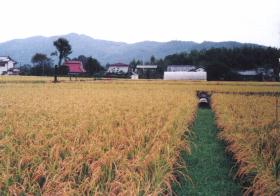 Mokichi Okada's understanding of truth disregards the conventional division between spirit and matter. He believed that modern science is incomplete, lacking the spiritual dimension of existence. Truth is neither wholly material nor wholly immaterial; it is both.

The phenomenon of Johrei is inexplicable in purely scientific terms. So is nature farming. Determined to stretch the horizons of scientific thinking, Mr. Okada allowed some of his disciples to test Johrei empirically and encouraged any follower who could to experiment with rice, wheat, and vegetable cultivation without using any kind of fertilizer or agricultural chemicals.

Beginning in the early years of his ministry, the Rev. Teruyuki Tada took great interest in both theoretical and clinical studies of Johrei and controlled research on nature farming. A brief sketch of our research projects launched under his guidance should begin with our first, the agricultural research.