Haiku Society




Inaugurated in 1970, the Reimei Haiku Society (RHS) has grown from a small, informal group to its current membership of more than one hundred. Two verses by each member are published every other month in the church newspaper, Reimei.

The society has so far published two anthologies. Rev. Utae Tada leads the group, and her own volume of haiku, entitled Muhi (Nature Farming), was published in 1989 under her penname, Terue Tada.

About two-thirds of the RHS members belong to a nationwide haiku organization called Kyokanoko. Led by the haiku poet Kaido Maruyama and his wife, Yoshiko, the society puts out a monthly collection of verses, to which Reimei Church poets regularly contribute.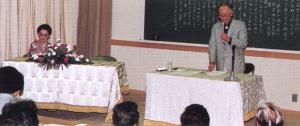 Haiku poets Kaido and Yoshiko Maruyama at the annual convention of the Reimei Haiku Society.
---

12/16/1997 Reimei Church